It hasn't always been easy, 
but it's been exciting!
In 1973 Bryan Casey, started Casey Adventure Tours with a single 8 seater VW Kombi Van and a passion for touring remote Australia. Today we are known as Casey Tours, and run a fleet of coaches, operating a variety of tours from single day tours within WA to extended tours through some of Australia's most remote and fascinating regions. With over 40 years of touring experience, we have the knowledge to run exciting, comfortable and safe tours throughout Australia. At Casey Tours we use our own vehicles and drivers employed by us, we don't hire drivers from other operators to drive our passengers. In the same way, we arrange all accommodation, attractions and meals directly, we take responsibility for all aspects of our passenger's touring experience.
Casey Australia Tours
Staff
Our staff is the face of our company and at the front line of all our service delivery. All our staff have two main objectives on each tour, the safety and the enjoyment of all our passengers.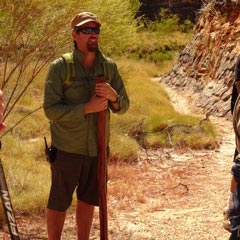 Didge Playing Driver
Not missing his past role in Real Estate, Greg has been guiding for 12 years. Joking and entertaining around the bush with his wife and his didgeridoo by his side. Also a trained reptile handler, there are not many parts of the bush that he doesn't call home.
View Profile
To support Bryan and Rina Casey in the operation of Casey Australia Tours they have employed a team of experienced staff.
Casey Australia Tours 
are accredited and registered under
See our new 2019 brochure