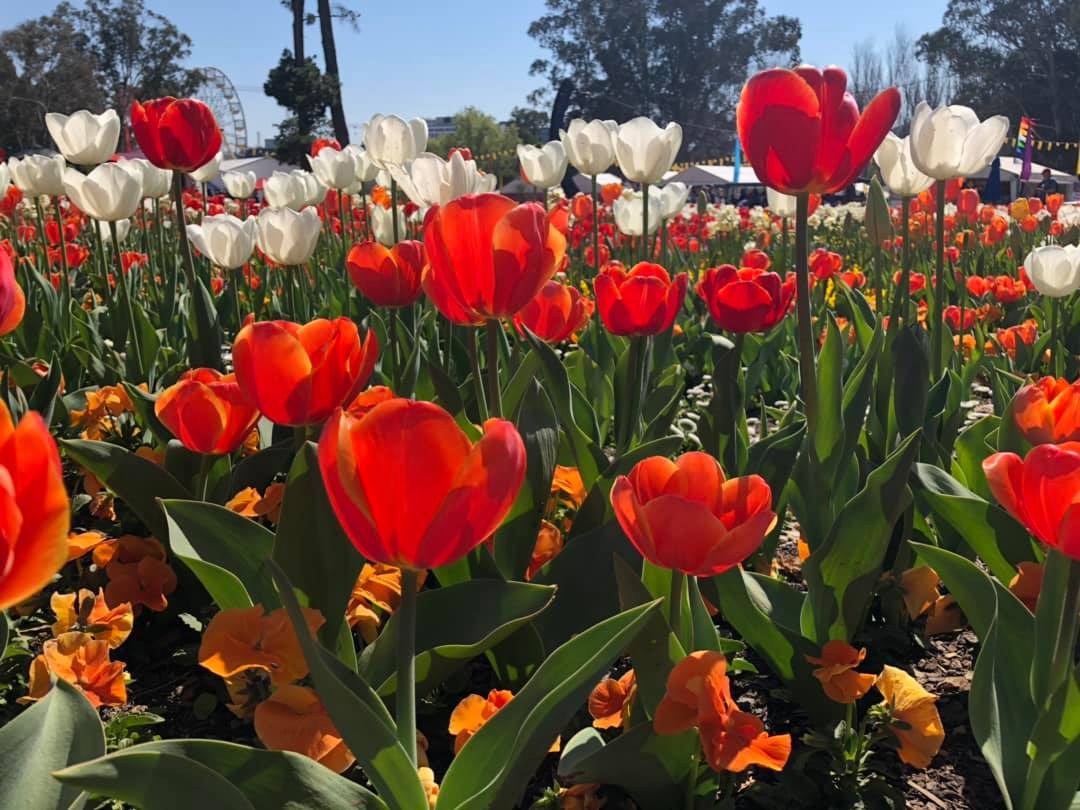 See our new 2022 Touring Program
6 Day Floriade, Canberra, Snowy Mountains and Kelly Country Tour
Australia's Biggest Celebration of Spring
Inclusions
Cockington Green Miniature Village
Tulip Top Gardens
Parliament House
The National Gallery
The National War Memorial
Snowy Mountains
Guided Tour of Beechworth
Ned Kelly Animated Re-enactment
Return Flights
Motel Accommodation
5 evening meals, 5 breakfasts
State
New South Wales and Victoria
Accommodation
5 nights motel
3 October 2022 - Waitlist Only
Price
List
Choose a City to view the price list
Day 
1
(PD, Motel) Fly into Canberra where we are met by our coach and taken to the motel to settle in for four nights. Note: Flights arriving after 6pm will have picnic dinner provided in the room.
Day 
2
(CB, MD, Motel) With one million flowers in bloom throughout Canberra's Commonwealth Park let Floriade stimulate your senses with exciting demonstrations, activities, displays and events. Admire the endless possibilities of floral design and see the stunning display of creativity and colour when fashion and flowers come together. In the afternoon we visit two beautiful attractions; Cockington Green Miniature Village, representing an English Village and famous worldwide scenes, as well as "Tulip Top Gardens" with beds of tulips in an array of striking colours. Note: Entry to Cockington and Tulip Top included.
Day 
3
(CB, RD, Motel) We travel via Jindabyne to the Snowy Mountains and a beautiful alpine village in the Kosciusko National Park. Here you may take the chairlift up the mountain. In the afternoon down the mountains to Cooma and back to Canberra. Note: Chairlift not included in your fare approx $30.
Day 
4
(CB, MD, Motel) A full day in Canberra visiting Parliament House; the unique blend of impressive architecture, a stunning art collection and beautiful landscape makes Parliament House one of our nation's most important buildings. The National Gallery; with more than 160,000 works of art across four main areas that belong to the people of Australia and are preserved and presented for their enjoyment and the National War Memorial; combining a shrine, a world-class museum, and an extensive archive to commemorate the sacrifice of those Australians who have died in war and remember, interpret and understand the Australian experience of war. Finishing the day off with a tour around the Embassy District.
Day 
5
(CB, RD, Motel) A day of Australian icons. Travelling via the western side of the Snowy Mountains down the Hume Highway we come to the Murrumbidgee River and the equally famous "Dog on the Tucker Box" five mile from Gundagai. Then to the border cities of Albury in NSW and Wodonga in VIC and a visit to the Hume Weir, the largest dam on the Murray River. On to Beechworth, our home for the night.
Day 
6
(FB) Kelly Country, a day of history. Firstly a tour of Beechworth where Ned and his mother were tried and imprisoned. Then on to Glenrowan for an animated re-enactment of his capture at the Glenrowan Hotel. To Benella, whose famous son was Weary Dunlop. Lastly on to Melbourne for our flight home after a great tour. Note: Kelly Reenactment included.
See our new 2022 Touring Program