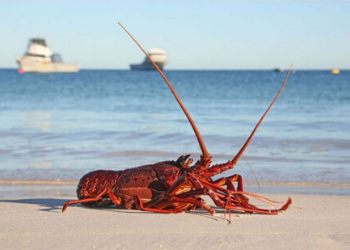 See our new 2021 Touring Program
Western Rock Lobster & Pinnacles Day Tour
Inclusions
Morning Tea
Half Crayfish Lunch
Factory Tour
Entry to Nambung National Park
Notes
A few hours drive north of Perth is the Cervantes, the gateway to Western Australia's Pinnacles Desert and the beginning of Australia's Coral Coast region. It is home to beautiful white sandy beaches and turquoise waters teeming with marine life, making it a popular choice for fishing or swimming and relaxed family getaways enjoying tasty fresh seafood.
The Pinnacles Desert is one of Australia's most unique landscapes, featuring thousands of limestone spires, some up to 12 metres tall. Learn more about the Nambung National Park's fascinating geology, flora and fauna at the Pinnacles Desert Discovery Centre.
 The Nambung National Park is also a vast expanse of coastal heathland covering over 17,000 hectares, and is home to a range of amazing native plants and animals. From late winter to the end of spring, wildflowers bloom spectacularly throughout the park, with species such as wattles, quandong, yellow tail flower, thick-leaved fan flower, white clematis, cockies tongues, parrot bush and banksia species all visible.
Visitors will also delight in viewing wildlife such as western grey kangaroos, cockatoos, emus, bobtail skinks and the occasional bird of prey.
 After this amazing experience exploring the Pinnacles, it's time to enjoy a lunch of lobster at The Lobster Shack with its uninterrupted views of the Indian Ocean.
Once lunch is finished, we will tour the regions multi million-dollar facility by taking a firsthand look at the live lobster processing plant. Observe how the marine crustacean is captured, brought onto shore, sorted, and then live packed in preparation of being dispatched worldwide before heading back to Perth. 
See our new 2021 Touring Program