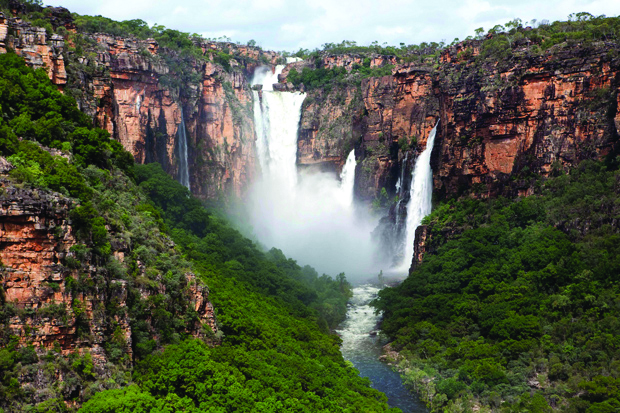 See our new 2019 brochure
Kakadu and Litchfield Tour Package from Perth
Inclusions
Airfares to and from Darwin
Scenic Flight over Kakadu Waterways
Kakadu National Park
Kakadu Boat Cruise
Litchfield National Park
Museum & Art Gallery NT
Darwin Military Museum
Darwin Botanical Gardens
Darwin Aviation Museum
Motel Accommodation
5 evening meals, 5 breakfasts.
State
Northern Territory

Accommodation
5 nights motel
Price
List
Choose a City to view the price list
For full details on Meal and Accommodation Codes click the buttons below
Day 
1
(MD, Motel) Fly to Darwin and then down the Stuart Highway before turning onto the Arnhem Highway. After crossing the Adelaide and Mary Rivers it's into Kakadu National Park and where we settle into the Crocodile Motel and start to acclimatise to the Northern Wet Season.
Day
2
(FB, MD, Motel) Today is all about getting up in the air and viewing the giant rivers snaking through the landscape. We board a scenic flight over Kakadu National Park. At this time of year the waterfalls are spectacular and the waterways are awash with bird and marine life. We take a cultural cruise along the swollen Magela Creek – floating over crystal waters, through flooded paperbark forests with our your amazing local guides, it is utterly serene. Returning to Jabiru. Note: Scenic Flight, Park entry and cruise included.
Day
3
(FB, RD, Motel) A morning visit to some of Kakadu's ancient and mesmerising world famous rock art and a visit to the Bowali Visitor Centre before heading back towards Darwin with a stop along the way to enjoy local barramundi and chips dinner.
Day
4
(FB, RD, Motel) An interesting day around Darwin City. With visits to the;
• Museum & Art Gallery of Northern Territory; Set in a scenic location overlooking the Arafura Sea, MAGNT is home to internationally renowned artistic, cultural and scientific collections and research programs. The Museum also details one of Darwin's most memorable nights, Christmas Eve 1974 visit from Cyclone Tracey.
• Darwin Military Museum; Tells the story of an extraordinary chapter in Australian History, the bombing of Darwin by the Japanese on the 19th February 1942.
• Aviation Museum; A massive hanger on the edge of Darwin Airport housing a huge display including a B52 and F11 Strike fighter. Note: Three Museum entries included.
Day
5
(FB, RD, Motel) Back on the road to Litchfield to experience the power of Wangi and Florence Falls. Some of the water holes here are closed for swimming at this time of year due to the unknown movements of crocs in the swollen system. After inspecting the intriguing Magnetic Termite Mounds we return to Darwin via Batchelor.
Day
6
(FB) This morning we make a visit to the Botanical Gardens Plant Display House with tropical orchids, bromeliads and other exotic flora then head down to the newly re-developed Darwin port area. With optional visits to the RFDS and Bombing of Darwin Centre or the WWII Oil Storage Tunnels. Otherwise relax and enjoy this new hub of Darwin. In the afternoon after absorbing the amazing wet in Darwin and the Top End we return home.
Note: Some modifications may need to be made due to weather conditions.
Notes
The wet season in Darwin is characterised by high humidity, monsoonal rains and storms. Average temperatures range from 25 – 32°C, and humidity can push past 80 per cent. The average annual rainfall is 1727mm and about a quarter of this is expected in Feb/Mar. Because of this the wet is considered by many as the most beautiful time of year in the Top End, Sunny days and afternoon storms refresh the landscape, animals and plants flourish.
See our new 2019 brochure